URGENT NEED!!!!!!!!!!!!!!!!!!
Nicole and Joe Dewberry will be traveling to adopt Taylor in 2 weeks.
They still need to raise $26,000.
Why is the need so great and the time so short you ask.
2 reasons:
1) They were just in EE a few months ago trying to adopt. The young man they wanted to be their son decided he did not want to leave his friends. Now this is rare by the way. He is almost 16 and made this decision. Most kids don't say no. So because of that Nicole and Joe are financially tapped out.
2) Because their paperwork was already filed in EE all they had to do to adopt Taylor was make a few changes to the paperwork and submit it to the government again. Also their paperwork expires in August. So they are getting an appointment date in just a few weeks because of those 2 factors. If they do not travel in 2 weeks to start the process over there they will have to start all over again. They really need to not have that happen because in this particular situation it is important to adopt Taylor soon. She is considered "special needs" because of her HIV status and because of her age she could be transferred to an institution soon. Her care there will not be as good as the care she is getting now. In fact will not be good care at all.
SO THE NEED IS REALLY, REALLY, REALLY URGENT!!!!!
I CANNOT STRESS HOW URGENT THE NEED IS.
Now I have alot of friends. Lifetime friends, friends from churches I have attended, friends from school, friends from my neighborhood, work friends and even new friends I have made in the adoption community in the last year. I have alot of friends and acquaintances. I have asked for help with our adoption fundraisers and we have been so blessed with how generous people have been. We are 95% funded at this point. So I am not asking for us.
What I am asking for now if for you all to consider helping Nicole and Joe bring Taylor home. Nicole is my little sister. God has allowed both Nicole and I to be unable to have babies. I will not lie and say this has been easy for us. We both grieved in our own ways. But God has given both of us a heart for orphans from the time we were kids. Now we know why. God meant us both to grow our families through adoption. This is a work started in both of us by God a long time ago. I can't tell you how much Chris and I love that Nicole and Joe have the same heart for orphans that we do. What a privilege it is to have my sister (and my bestest girlfriend in the whole world) advocate for orphans and adopt right along side us. God has used our love for orphans to grow us closer as sisters. This is pretty amazing to me folks because as kids we could not stand each other. HAHA!
SO HERE IS THE CHALLENGE!
THERE ARE 5 WAYS TO PARTICIPATE!
#1 Save your spare change for a week. Collect all your spare change from your pockets, wallet or that jar of change you keep. Look under your couch cushions, the ash tray in your care and pockets of the jackets in your coat closet. Send your kids door to door in your neighborhood (safely) with a jar and a photo of Taylor and ask for spare change. Whatever amount of change you can find, beg for & save in the next week donate it to Taylor's adoption fund.
#2 Give up your Starbucks for a week. I know alot of you stop at Starbucks or some other coffee place almost everyday. Make your coffee at home for a week. Whatever you would spend in an average week on coffee donate to Taylor's adoption fund. I'll bet if some of you add it up you will realize you spend $20 or more on coffee a given week. Would you consider giving up that latte or frappachino for one week to give Taylor a Mama and Papa?
#3 Just give a donation of any amount you are able. All donations can be made online and are TAX DEDUCTIBLE. Even $5 will help them bring Taylor home. Please consider just making a flat donation.
#4 Give a matching grant. I have seen challenges like this go a long way. If you want and are able to give a large sum of money like $500 or more contact me and we will set up a matching grant challenge. For example. You want to give $1000 to the adoption fund. But hey let's see if we can up challenge a little more. We will ask people to help us match that amount in a certain amount of time (like 72 hours). So if we raise $850 in that time you match it and donate $850 also (unless you want to give the full $1000). But we would set it up so that you only had to give up to $1000. People love competitions. They love challenges and matching grants. I have seen folks raise alot of money this way in a short amount of time. So if you are interested in offering a matching grant challenge then let me know ASAP.
#5 Share this blog post everywhere. Facebook, Twitter, and any other social media outlet you use. Please help us get the word out.
HOW TO DONATE:
Nicole and Joe have partnered with a few organizations that can accept TAX DEDUCTIBLE DONATIONS.
The first is Project Hopeful. You can donate to Taylor's fund by clicking
here
.
The second is Reece's Rainbow. You can donate by clicking
here
.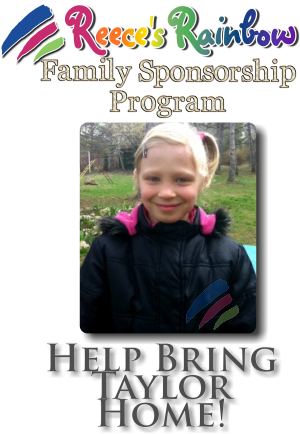 Grab This!
It does not matter which one you send your funds through. Nicole and Joe will get the funds to adopt Taylor. Both organization are 501c3 non-profits. You can write off your donation at the end of the year.
For those of you doing option number 1, I would love to know how much change you can collect in a week. Please (if you're not too shy) share it in the comments below. I have always been amazed how much change accumulates around the house and car. Just the other day I counted up over $29.
Again from the bottom of my heart I am so thankful for everyone who has helped us so far and who is willing to help Nicole and Joe bring Taylor home. She is a very special little girl who desperately wants a forever family.
If you want to follow the Dewberry families adoption journey you can at
www.andthisonematters.blogspot.com
.
Blessings,